To Speak to a Consultant About Managing Employee Debt, Click Here
If you operate a small, intermediate, or large business– Chances are a significant percentage of your employees suffer from a large debt load.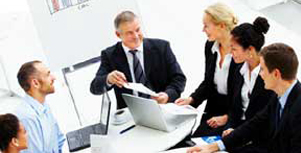 These employees are under immense pressure to pay their bills, take care of their families, and perform the duties of the job.
As fixed costs such as health care increase, it becomes more and more difficult for your employees to guarantee their retirement by simply using their salaries.
All sorts of employees suffer from debt: From C-Level executives to regular crew members.
A strategic approach to ensuring high performance from debt-ridden employees is to stop it proactively. Don't wait for your employees to be entangled in bankruptcy and foreclosure proceedings.
Offer them a chance to enact positive change in their lives BEFORE it spills over into the work place.
A strength-centered solution includes offering debt settlement services to your employee. That way. they can rest at ease knowing their debt is being taken care of..and they don't have to pay a dime unless they actually get a settlement.
This approach ensures that debt-ridden employees stay relaxed, productive, and don't use company time to focus on their personal finances.
It is estimated that an average of fifteen hours a month are wasted dealing with personal debt issues. Often, employees with a high debt load seek a second or third job, compromising their performance at your company. Lastly, debt causes a higher turn over as employees are constantly seeking more competitive wages.
Deal with the ever-increasing phenomenon of American debt proactively, by helping your employees resolve their debt load…
Allow your employees to live worry-free. And set them up for success.