If you wish to become an Eagle One Affiliate, Click Here
If you are considering a new career opportunity, or are seeking a secondary business– we are honored to present the Eagle One Affiliate Program.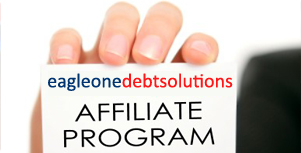 Eagle One is a fully FTC-compliant, debt settlement solution. We remain performance-based; not charging our clients until we've delivered proven results. Eagle One also offers a fully compliant attorney-based model. We offer your clients complementary budget analyses, performance-based pricing, and the guidance of an attorney.
WHY EAGLE ONE?
Americans continue to spiral into debt. And there is no strong sign of an economic recovery. With creditors using all means at their disposal to recoup debt, your clients deserve a strong negotiator in their corner.
Additionally, the FTC just passed a new set of regulations that has forced the majority of debt settlement companies to close their doors. We are one of the few reputable companies able to legally provide debt settlement services.
DON'T LEAVE MONEY ON THE TABLE
If you frequently deal with individuals who are facing financial hardship or debt, don't leave money on the table. Plug your business into the Eagle One affiliate program and offer bankruptcy and debt services alongside your existing business.
HOW DO I KNOW IF EAGLE ONE IS RIGHT FOR ME?
We work with a diverse network of affiliates across the country. Every affiliate is carefully considered, but once approved– we consider you family. We have a number of affiliates who use Eagle One as their primary source of income, and become dedicated resellers of our program.
We also have some entrepreneurs utilize us as a second business, or an add-on to their existing business. We are comfortable working in both models. Our commission structure is one of the most competitive in the industry.
If you wish to simply make a referral to Eagle One, we welcome that as well. Simply refer a client and earn referral fees!